Our unique degree is designed to mimic the way we acquire new skills in the real world. Start with practical 'hands-on' work to build a foundation of technical knowledge. Then, develop and enrich your artistic practice with analysis, theory and an in-depth understanding of all stages of the creative filmmaking process.
Kick off with a breathless onslaught of practical filmmaking under heavy constraints, building your capabilities of making films under any circumstances. A filmmaking bootcamp that challenges, stretches and perhaps occasionally overwhelms you. It's a perfect environment for fast tracking your skillset and building the capabilities and resilience required to flourish during the rest of the course.
Then focus on quality, squeezing everything you've got into every second of screen time, whilst immersing yourself in the work and methodology of those who came before you. Learn to beg, borrow and steal from the greats. They did the same themselves!
With everything you've learnt, it's time to take your first steps into the professional film industry. Reach your audience, start building an industry network, and execute your major final project.
Throughout the experience you'll be challenged and supported by our tutor team of award-winning filmmakers and industry professionals with hands-on, practical workshops, industry-relevant assessments, and a team of other young filmmakers that have come from around the world to take this course alongside you.
This course is designed to intensively train you in production, professionalism, and technical skills. Week after week, you'll be put into teams and given a challenging, so-called "Impossible Brief" to complete, rotating each time through one of the major filmmaking roles (director, screenwriter, producer, cinematographer, production designer, editor, sound designer, etc), rounding out your team with students from the Screen Acting and Visual Effects courses.
You'll work as part of a production team to write, shoot, edit and screen films within a short timeframe and strict limitations, designed to teach you to iterate and create under pressure. You'll get critical feedback, then rotate and do it again. And again. And again!
The semester-end assessments are practical and relevant, framed through the industry lens to give you as much of a real-world experience as possible, and the weekly workshops facilitated by our industry-professional tutors are there to support these projects and assessments.
If you're just looking to gain knowledge and skills on the technical side, you may be interested in taking our HE Certificate course in Film Production, which is the same as the first year of the BA programme.
We believe in constantly iterating and improving our course, so the workshops shown below may not perfectly reflect this year's design. Though the details may change, what will never change is our commitment to hands-on, project-based, real-world learning to make films by making films. If you have specific questions, please don't hesitate to contact us.
Roundtable
Where your scripts and films are presented and subjected to our unique feedback structure. Learn both to give and receive powerful, honest, constructive criticism. 
Development
Taking a step back, viewing filmmaking and the course itself from a meta, birds-eye view. Watch and discuss the work of professionals, exercise your team building muscles, and report and reflect on your progress.
Production Studio
A hands-on introduction to the basics of on-set technology and shooting workflows. Cinematography, lighting, sound recording, and organisation are the key subject areas. 
Directing & Acting
Developing the empathy, language and communication skills in working with actors. The workshop covers basic acting techniques, methods of giving feedback, blocking, and trains the director's ability to hold and lead a group.
Sound Design & Editing
Covers post-production sound, from recording tools and techniques to sound editing, mixing and design in post-production. 
Editing & Post-Production
A practical introduction to picture editing, from the nitty gritty of project creation, workflows, ingestion and export to the theories of narrative flow and shot assembly. 
Writing & Storytelling
All about storytelling, from concept and structure on the page to realizing a vision on set. Break down stories to their fundamental shapes and build them up so they resonate.
Production & Industry
From the scheduling, budgeting, crew management and all-important paperwork involved with producing to copyright, legalities, industry expectations and self-promotion. 
Production Design
Practical tools for developing the look of your film. From costumes to miniatures, learn how visuals play an important role in telling your story.
The second year of the Film Production BA builds upon the whirlwind production of the first year, with a focus on narrative storytelling, honing a creative vision, and historical and cultural context.
Expand your skills in every role on both macro and micro levels. Get a wide purview for how those disciplines play their part in the larger scheme, then break down, chop up, take apart, stretch out and zoom in on those disciplines to see what makes them tick. How do the greats do it? How will you do it even better?
You'll turn your critical gaze inwards, too, to develop your own creative and personal organizational and aesthetic skills. And you'll expand your horizons and understanding of the possibilities of the cinematic medium by watching and analyzing a wide array of innovative and powerful films from across the world and through time.
The following is the slate of workshops from 2019. Because we believe in constantly iterating and improving our course, this may not perfectly reflect this year's design. Though the details may change, what will never change is our commitment to hands-on, project-based, real-world learning to make films by making films. If you have specific questions, please don't hesitate to contact us.
Screenwriting & Narrative
Explore the origins and evolutionary purpose of story - why are stories written thousands of years ago still relevant and resonant today? How do you build long-form stories? What is needed to get an audience to connect emotionally with fiction or dramatization?
Directing Characters
Engage with concepts and practices connected involved in creating unique, multidimensional characters. Develop your senses of observation, subtext and dialogue analysis, backstory, and methods for delivering character information to actors.
Mise-en-Scene
Anything that is included inside the frame serves in pushing the narrative process forward. Understand and make use of the basic concepts of graphic and visual design. Make informed decisions about light, composition, and production design for narrative purpose.
Editing & Narrative
Discover how context and imagery create meaning through time. Manipulate an audience's emotional experience with tools and tricks of editing, sound and color. Appreciate rhythm and timing as the engines of cinema.
Audio Storytelling
Sound can create worlds, drive character, conduct an emotional experience and power a narrative. Through peripheral audio arts like classical music, podcasts and radio dramas - as well as film itself - explore how to utilize sound in your own filmmaking to profound effect.
The Biz
A series of interviews with guests from the professional industries of financing, distribution, marketing and more; field trips to Berlin-based production and distribution companies; and engagement with the famed Berlinale Film Festival and Market to sharpen your industry senses.
Films That Changed Us
Explore the great historical movements of cinema, from German Expressionism to French New Wave to Mumblecore, then spread to fringe and underrepresented movements across the world, from Queer Cinema to Surrealism to Indigenous Filmmaking.
During this final year you will craft the final project that makes it all real. You may be in the final stretch, but you'll still have to drill those skills.
Roll up your sleeves. You're in control now. Shape your biggest, baddest work as you see fit. Is it a high-caliber commercial for a startup that needs your fresh take? Perhaps it's a narrative, multimedia music video you're making in collaboration with an artist at Catalyst Music? Maybe you'll bring some tried-and-true peers back to your home country to make a short film close to the heart. Or do you have larger ambitions - maybe you're ready to take a crack at a feature-length film?
Train up in your chosen field to get ready for the big one. Work in short creative bursts focusing on improving specific skills in the context of the larger whole. That could mean stretching out a scene in your film down to each frame. It could mean exhaustive auditions of every actor in town. Or perhaps it's getting back to basics - regular 24-hour nanofilms to fill out your filmmaker's sketchbook, honing your strengths while identifying where you still need work.
Dream it up, assemble your team, make it happen. The stakes are higher now. But you'll be ready.
Whatever your ambitions, our tutors will push you to reach even further in deep one-on-one consultations. However outrageous your goals, we will support you with our facilities, equipment and network as much as we can - and give you a friendly nudge out the door as well, to make your own connections in the industry.
However you measure it and whatever artistic realm you are working in, most creatives would like to achieve success with their creative endeavour. There are many types of success an individual may want to achieve. From successful completion of an artistic exploration all the way through to financial security and a global audience. 
There are many skills required to develop these dreams into real and practical futures. Our optional course in self-development and leadership is the 'rocket fuel' which will provide you with the frameworks, the focus and the drive to help realise your future.
Self development to better understand how to take decisive action, to communicate powerfully with others and take an honest look at how you limit yourself. Leadership to complete your creative project, to bring your work into the external world and to attract an audience to share, appreciate and follow your work. 
Leadership
The employment model in the film industry has transformed over the last 10 years. Roles with permanent contracts do still exist but it is much more likely that you will work either as a freelancer or as part of a small startup on your way to professional creative autonomy.
The film industry never ceases to evolve and reinvent itself. We aim to provide you with an education that enables you to either be a change maker or to be capable of adapting and staying at the forefront of this change.
Our tutors are industry experienced with a passion for passing on their knowledge to others. Here are a few of the experienced and friendly tutors that will be supporting you throughout your learning process.
In the end it doesn't matter what we say or do. What matters is what our students are doing during their time with us. Take a look at a selection of our favourite work by our filmmakers and screen actors.
Not for the faint of heart
Our courses will toss you into some of the longest hours, hardest work, and most difficult interpersonal and intercultural situations you've ever had to face. But that's filmmaking. It wouldn't be authentic any other way. And we won't drag you through it, either; you'll be expected to meet the bar we keep raising with forward momentum and high spirits. If you can do that, we promise you accelerated personal and professional growth, not to mention an unforgettable experience, lifelong friends and career contacts, and a portfolio that's full to burst.
Film Production HE Certificate
Our 'hands on' 1 year film production course. Learn by doing. And doing. And doing.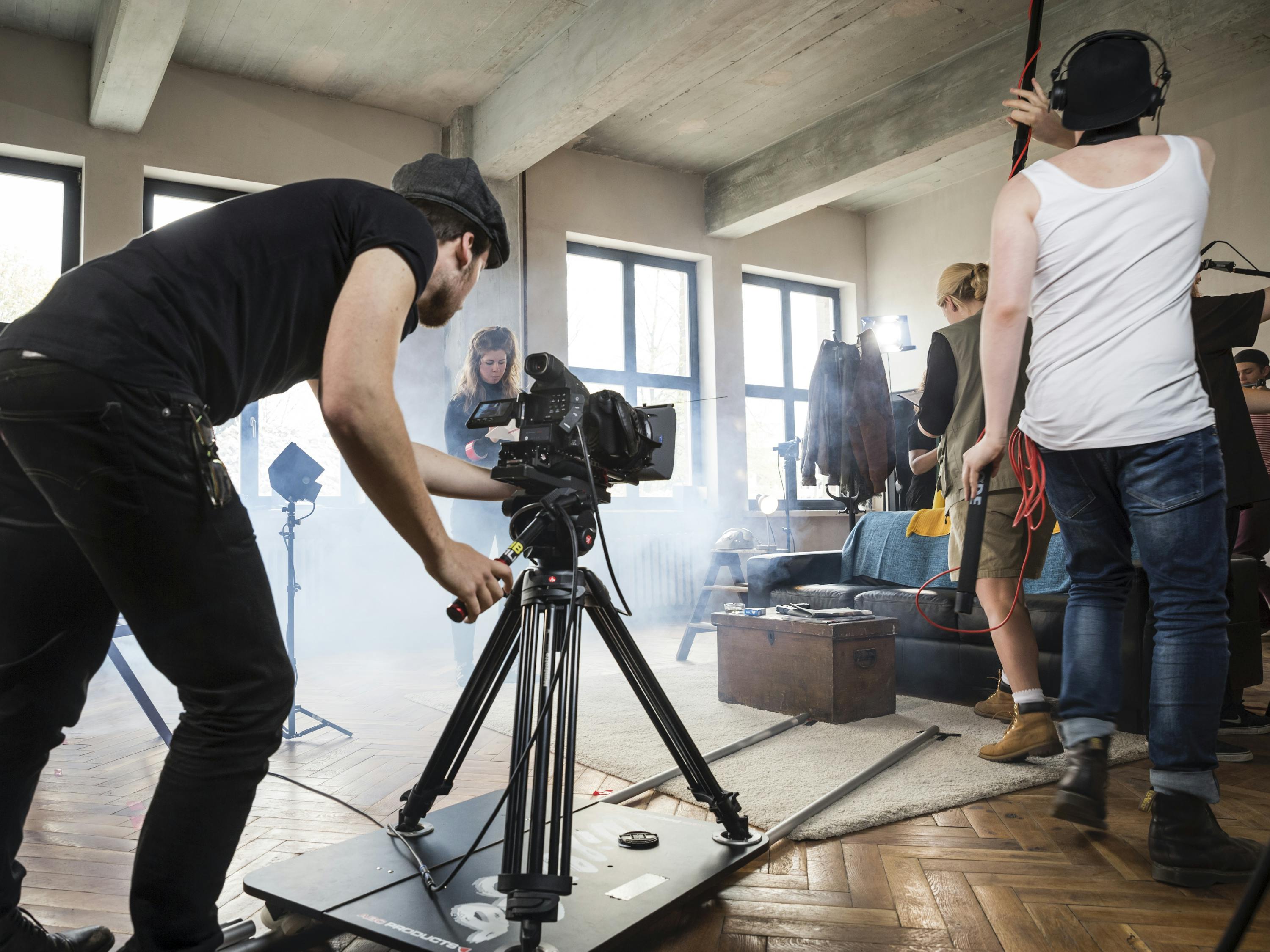 Visual Effects, Digital Arts & 3D Animation
Gain a powerful insight into the fast paced world of visual effects production, digital arts and 3D animation with all the tools, techniques and practical experience required to succeed as one of tomorrow's industry professionals.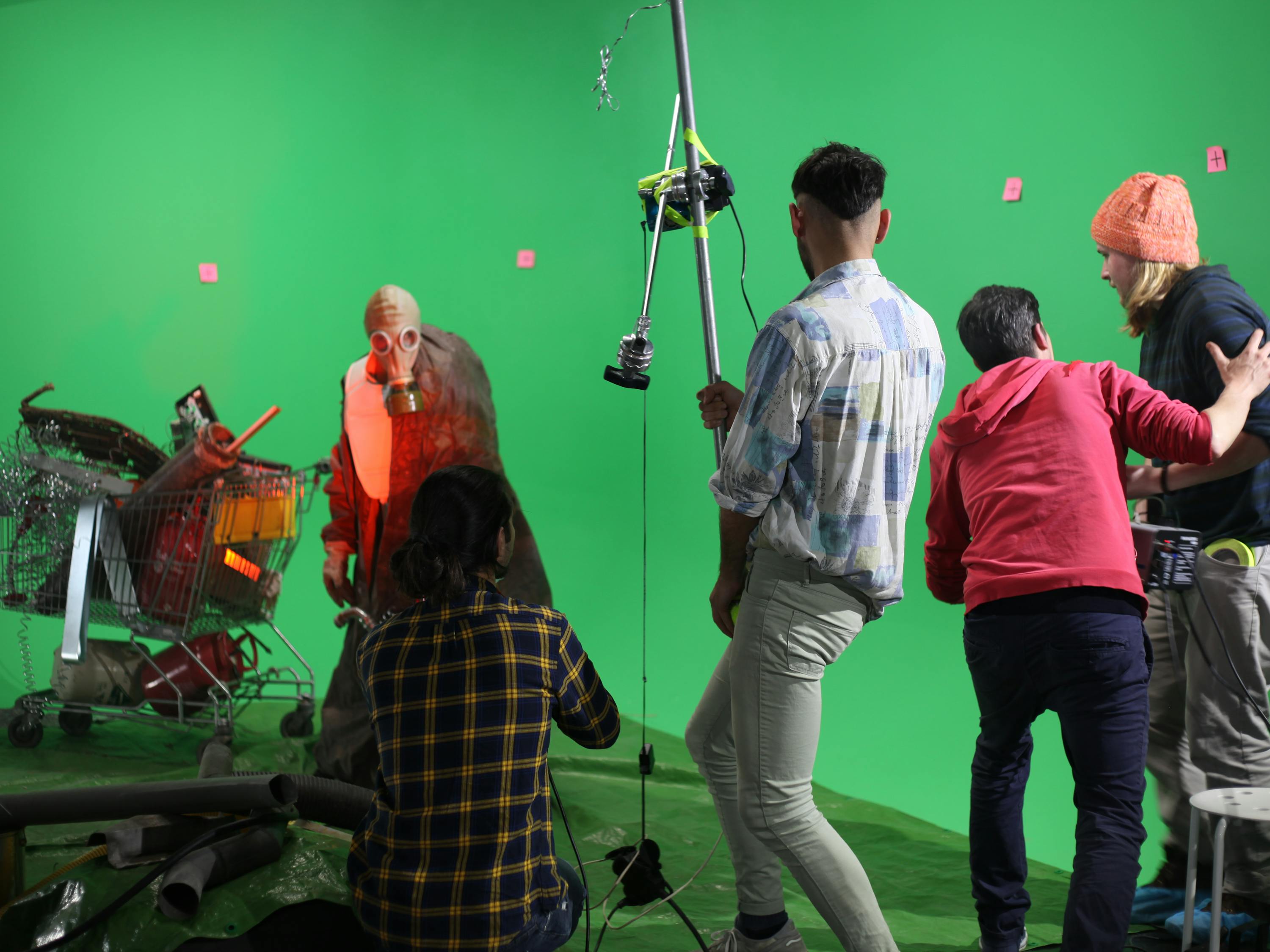 Filmmaking
A 4 week filmmaking course for beginners. Learn the basic foundations of practical filmmaking.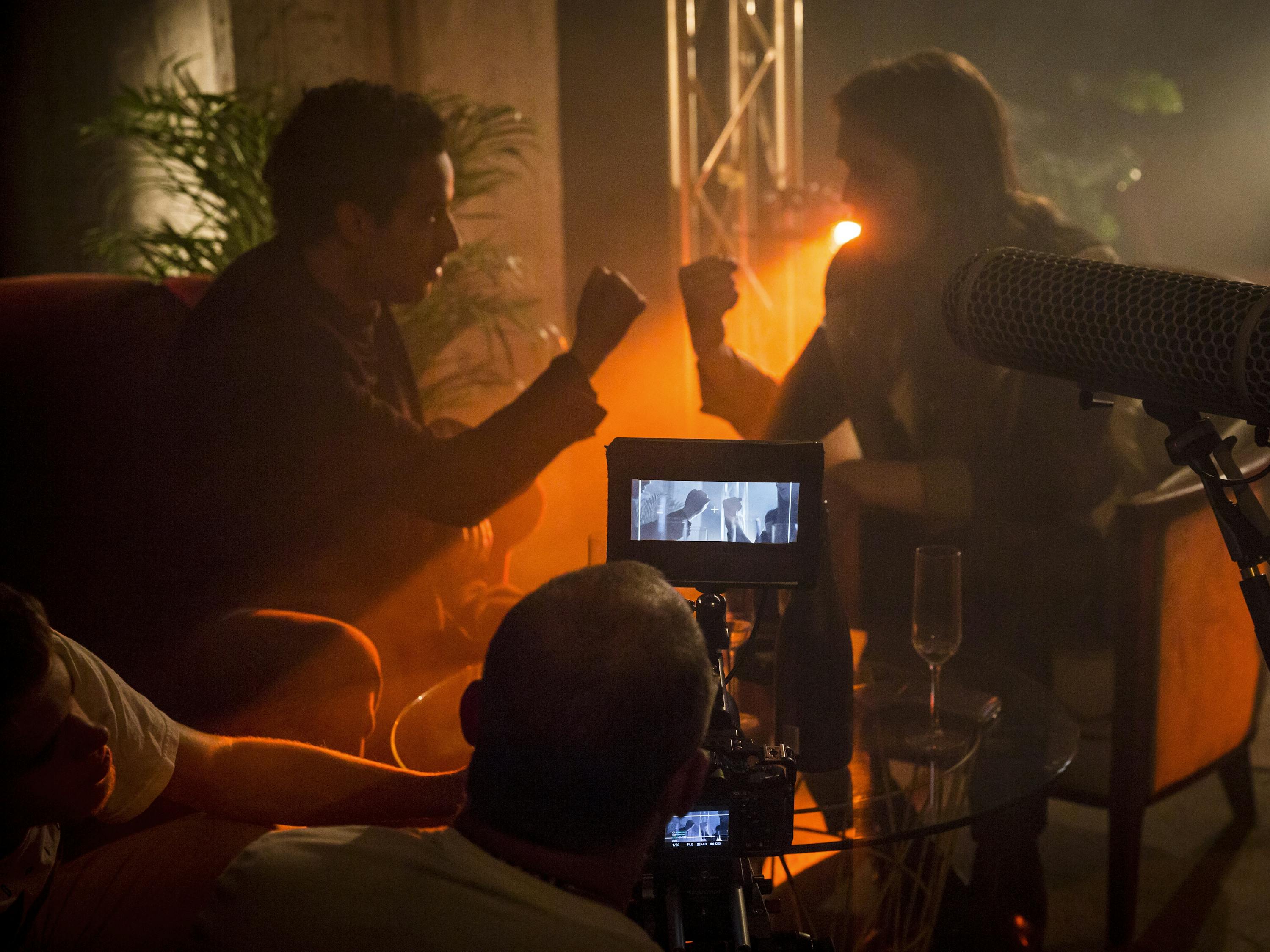 Creative Production Film MA Masters
Celebrate, explore, develop, innovate and magnify your capabilities as a filmmaker, director, cinematographer, editor, writer, producer, sound designer or audiovisual artist.