Embark on a journey of exploration through visual fx and digital art design through professional workflows in a fast paced 'real world', hands on, production environment. Develop your skills and knowledge of industry standard hardware and software whilst producing a minimum of 25 finalised works ranging through concept design, matte paintings, 2D and 3D animations, VFX master shots and practical on-set effects.
Gain the essential industry-relevant skills needed to excel in whichever direction you decide to pursue in your career as an artist and technologist. Our project-based curriculum allows you to build a portfolio while you shape your academic projects towards your professional goals and interests. Whether you're interested in gaming, animation, immersive installations or on-set VFX, this programme provides you with the knowledge, gear, facilities and guidance to realise your creative and professional goals.
Through countless collaborations, get experience in a range of creative and technical roles both on-set and in post production.
Ongoing feedback and mentorship from our tutor team will equip you to design and produce digital images and visual effects for a range of incoming briefs. Start exploring your creative identity on your journey to becoming a visual effects and digital arts professional.
To support this practical learning you will have access to industry equipment and facilities including a modern film studio with a green screen, work stations, motion sensors, professional gear, countless filmmaking accessories, sound equipment, and everything you could think of when it comes to a professional set-up. 
Undergraduate | HE Certificate - 1 Year
Train your eye, explore a variety of techniques and approaches to visual effects and digital art. Create and mix elements in a final image by shooting practical effects and live action footage with real actors (in collaboration with our Acting, Film & Music Production Schools!). Take photos and references, supervise on set and in a green screen studio, create and animate 2D graphic elements, compose matte paintings, sketch, and bring 3D assets to life.
This one year VFX, Digital Arts & Animation course dives into nearly every subject in the broad territory of technological arts in order to provide a solid foundation and hands on, practical experience in the tools and methodologies used in today's creative industry.
During the year you will complete:
15+ concept shots/installations
1 short film as a VFX artist/supervisor
Countless collaborations on set and postproduction with our Film Production students
The digital portfolio you walk away with will not only contain your original work and projects. It'll also serve as a certification of the software and technical skills you've developed. You can also include sketches and concepts, case analyses, and project-based learning descriptions and outcomes.
Live Action & Practical FX
Post Production & Color Grading
2D and 3D Assets 
Image Composition, Visual Storytelling and Workflows
Development
Roundtable Discussions
More details here.
Study areas to look forward to:
Shoot live action, including fundamentals of cinematography and lighting
On-set visual effects supervision
Practical effects including in camera effects, vfx make up, animatronics etc…
Stop motion and miniatures
Green screen and 3d tracking
2D assets creation and animation
3D assets and animation, including modeling, texturing and lighting
Digital Compositing and camera projection
Matte painting and image retouching
Post production and colour grading
Character Design
Image composition and visual narrative
Physics, light and the science of visuals
Fundamentals of fine art and storytelling
Training your eye
The visual effects pipeline
Filmmaking, camerawork and working on sets
Collaboration, giving and receiving critical feedback, and introspection
During the Visual Effects HE Certificate course you will also have full access to a curated selection of 50+ online classes around every topic approached in our workshops, including membership access to Skillshare's extended catalogue of resources.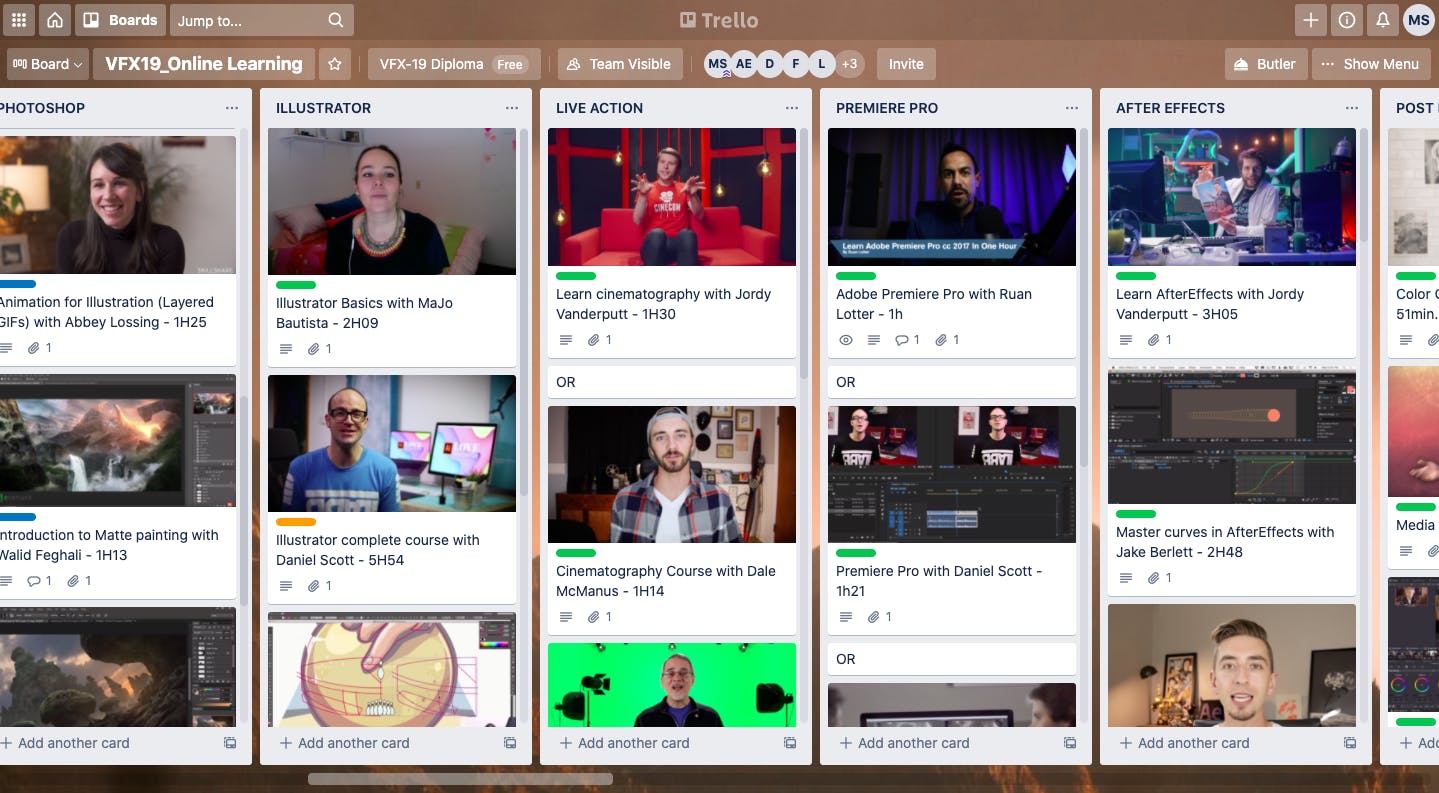 Learn more
Your initial progression choice will be whether to take your first steps into the industry or to continue your development by completing our Visual FX, Digital Arts & Animation BA Hons degree.
There is no right and wrong answer here. It will depend on the skillset you have already developed and what you are planning to do in the visual fx and digital arts industry.
Your success in either depends entirely on you – what you bring, your approach, and the grit, passion and sheer determination with which you take the next course or start your first project in the creative industry.
Degree
Entry level positions in large scale visual effects studios
Rotoscoping artist
Junior Matchmover
Junior compositing artist
Digital preparation artist
Assistant animator
Junior Matte painting artist
Positions in production companies
On-set VFX supervisor
On-set DIT (digital imaging technician)
3d junior animator
Junior color grading artist
Junior post-production supervisor
Motion designer
General jobs in small and mid level productions (music video, short films, artistic installations, etc)
Visual effects artist
Visual effects supervisor
VFX producer
Warning! This list of positions is not exhaustive! There is an endless catalogue of level entry or trainee position in the various industries concerned with visual effects and animation, and more new positions are created every day. From there, the only limit is that of your determination and grit.
However you measure it and whatever artistic realm you are working in, most creatives would like to achieve success with their creative endeavour. There are many types of success an individual may want to achieve. From successful completion of an artistic exploration all the way through to financial security and a global audience. 
There are many skills required to develop these dreams into real and practical futures. Our optional course in self-development and leadership is the 'rocket fuel' which will provide you with the frameworks, the focus and the drive to help realise your future.
Self development to better understand how to take decisive action, to communicate powerfully with others and take an honest look at how you limit yourself. Leadership to complete your creative project, to bring your work into the external world and to attract an audience to share, appreciate and follow your work. 
Leadership
Our tutors are industry experienced with a passion for passing on their knowledge to others. We have a rotating list of guest tutors for specific specialties and a permanent team of visual effects tutors that will be supporting you throughout your learning process.
Explore more Catalyst courses
Visual Effects BA Hons Degree
Engage and adapt to the industry of today whilst exploring the future of technological arts, new realities, artificial intelligence and human/machine interfacing.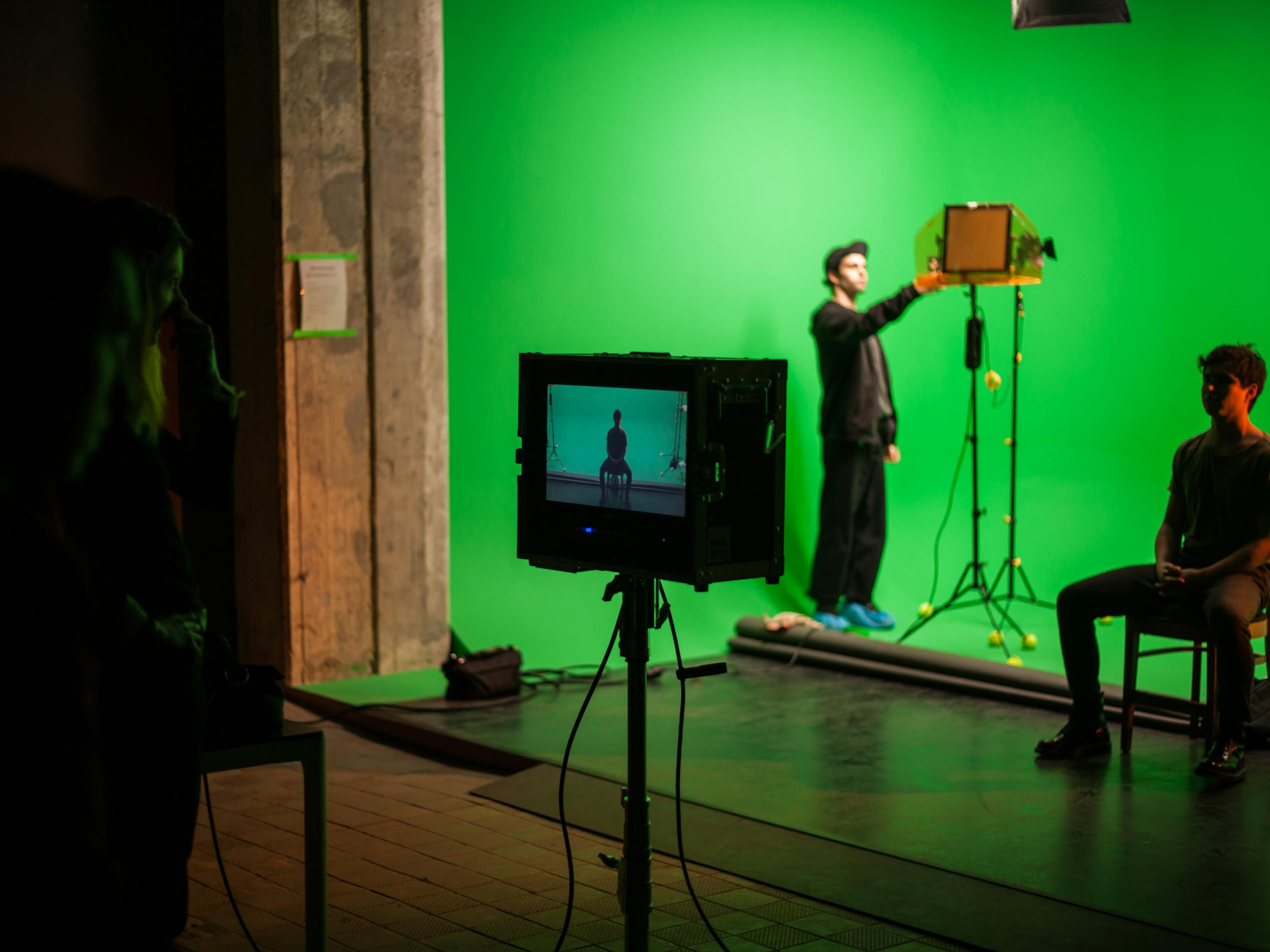 Studying Visual Effects at Catalyst
Learn more about our VFX learning programme.
Access to Higher Education
For those wishing to join our main VFX courses, but lacking either practical experience in VFX or the formal education requirements to apply through standard entry, we offer an additional primer workshop to run alongside any 4 week summer short course.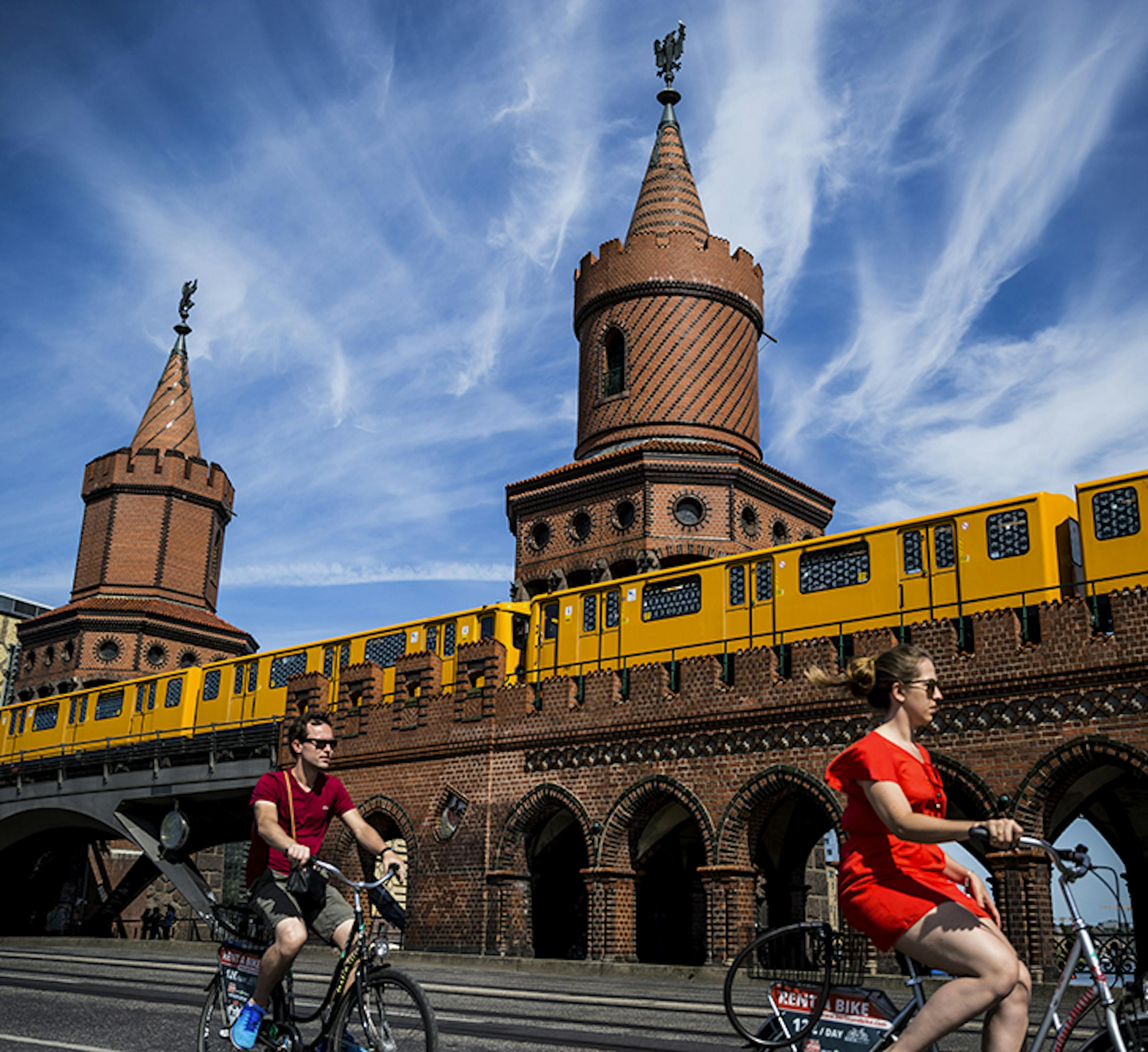 Film Production HE Certificate
Our 'hands on' 1 year film production course. Learn by doing. And doing. And doing.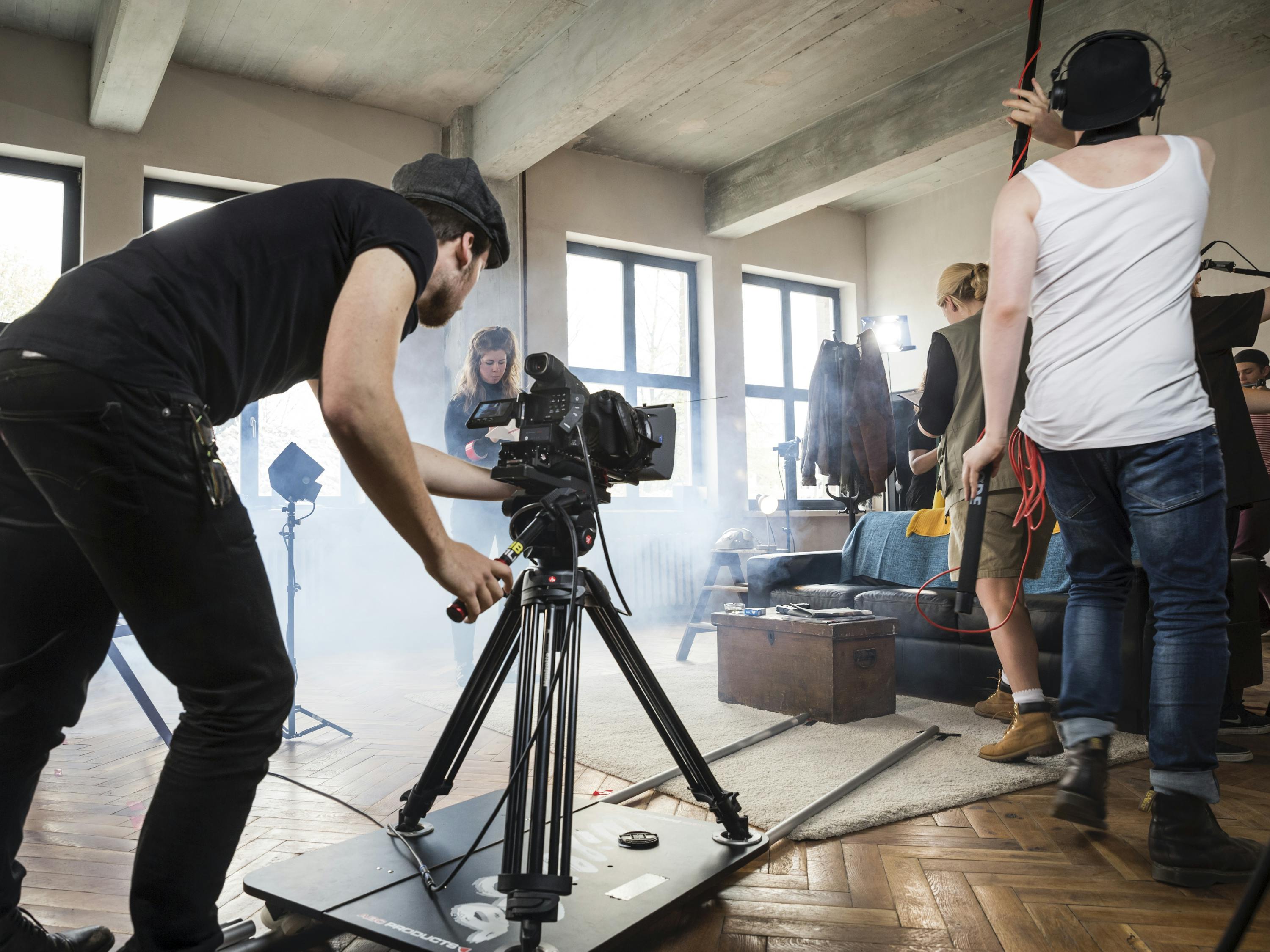 Creative Production Film MA Masters
Celebrate, explore, develop, innovate and magnify your capabilities as a filmmaker, director, cinematographer, editor, writer, producer, sound designer or audiovisual artist.