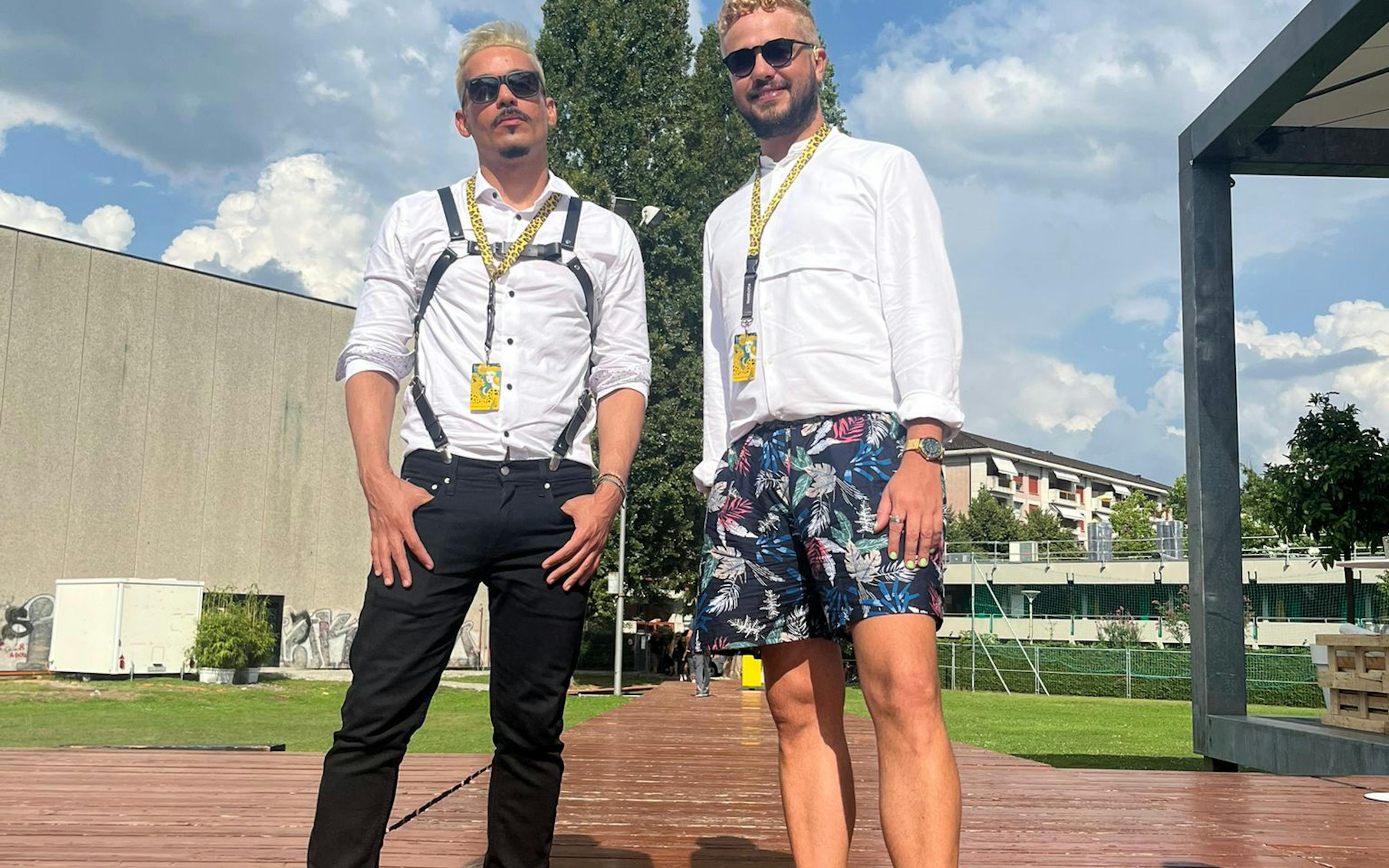 Since it began in 1946, Locarno Film Festival has been a destination to see the boldest, most avant-garde and innovative filmmaking. Every year, the festival's distinctive black-and-yellow Leopard theme imprints on the city for an intensive 11-day celebration of cinema. This year's 76th edition was a special one. Of 5,520 submissions to be screened at Locarno, 202 were accepted. An astounding three of these films were made by members of the Catalyst community.
Often regarded as one of the most prestigious film festivals in the world, Locarno is committed to showcasing a diverse range of films from various countries and genres and has garnered respect from both the industry and the general public. We're thrilled that movie enthusiasts, filmmakers and critics from all over the world had the chance to see "Du bist so wunderbar" by Film Production Programme Lead Leandro Goddinho and Paulo Menezes, "On the Go" by Film Production and Creative Production (Film) MA tutor Maria Gisèle Royo and Julia de Castro and "Autoerótica" by Creative Production (Film) MA student Andrea Hoyos Valderrama.
For us, this is huge news. Having the same amount of films being screened as China or the Netherlands – and in fact more films screened than most nations – leaves us dizzy with pride at the amazing work coming from our film school and the directors working within it. As most of the cast and crew of "Du bist so wunderbar" were Catalyst alumni and tutors, we took the opportunity to send the crew along to the festival in Switzerland in August to join the audience of over 145,000 people.
"Du bist so wunderbar" wins a Pardino d'argento
On the final day of the festival, it was announced that Leandro and Paulo's intimate portrayal of Queer immigrant life in Europe won the Pardino d'argento for the Pardi di Domani International Competition section!

Stills from Du bist so wunderbar, 2023
Directed by Leandro Goddinho and Paulo Menezes




The Queer tragicomedy set in Berlin follows Brazilian gay immigrant Edu (Murillo Basso) who was just kicked out of his place struggles to find a place to live while his personal life falls apart. Set on the day thousands of people are protesting against unaffordable rents in Berlin, the short film follows Edu on a journey through the streets, the chaos of house-hunting and the gay cruising underground culture in Berlin.
Cineuropa described the film as both "a fascinating character study" and an "indictment on the solipsism of much of modern society as well as the disparate and often abusive power structures that still exist. It's another daring and provocative piece of work that lingers in the mind". Eddie Bertozzi, one of the Locarno programmers and head of Pardi di domani Selection Committee praised the short film as "explosive filmmaking, a tragicomical tour de force following a young immigrant in today's Berlin who, in the heyday of the housing crisis, struggles to exist among social inequalities and cultural stereotypes". Brazilian press hailed the film as "poised to become one of the most celebrated shorts of the year" with "lots and lots of potential to become an amazing feature long narrative".
"In the realm of filmmaking, having your movie selected for a prestigious festival like Locarno is already a much-desired opportunity", said Leandro, when we caught up with him back in the Funkhaus corridors. "Winning a Leopard Award is a huge surprise, especially for our very low-budget project and given the presence of numerous high-budget films in the same category."
"This award is a reminder that storytelling transcends circumstances and budgets. It's a testament to the fact that powerful narratives can emerge from dedication and creativity. This is a message I consistently impart to my students in class: there's no high-priced camera that can create a great film on its own. What truly resonates with audiences is the compelling power of storytelling and the artistic choices we make."
Sign up to our newsletter and we'll keep you updated on screenings of the film. The first ones are unofficially set to be in Berlin during November.
"This award is a reminder that storytelling transcends circumstances and budgets. It's a testament to the fact that powerful narratives can emerge from dedication and creativity."
– Leandro Goddinho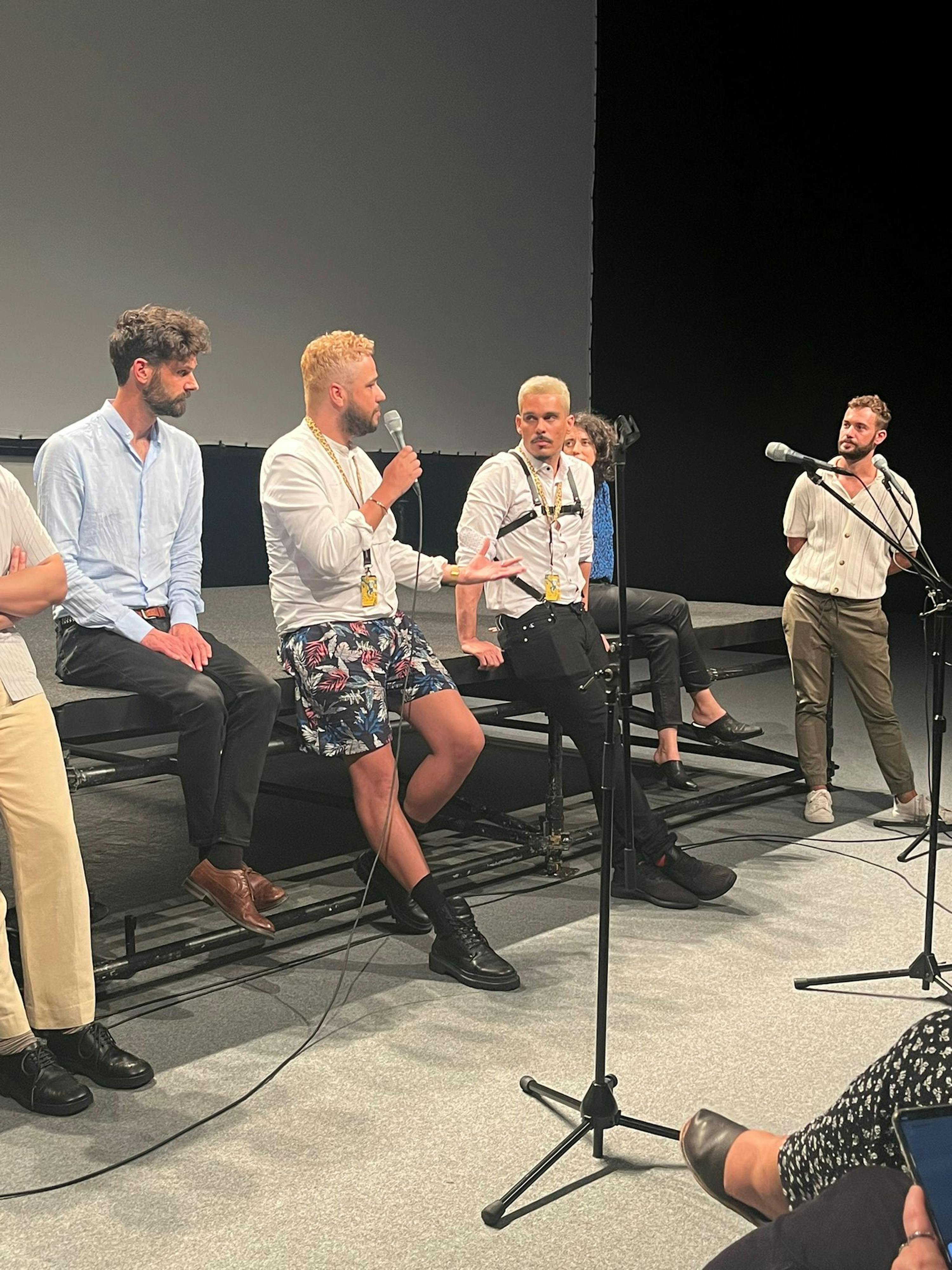 Paulo talking on stage during a live Q&A after one of three screenings

Leandro holding a Silver Leopard
Photo by Locarno Film Festival
Thank you to this special crew of Film Production alumni for their incredible input into bringing the film to life as well as documenting it in the joyful vlog below. They were our eyes and ears on the ground for the festival, seeing over 13 screenings, two panels, and a couple of parties and red carpets along the way. 
"On the Go" gets a special mention
A huge round of applause for Creative Production (Film) MA tutor Maria and co-director Julia, who's film which received a special mention from the Junior Jury. The film questions the choice of motherhood from the perspective of Milagros (Julia De Castro) while Jonathan (Omar Ayuso), seeks solace in Grindr in order to overcome abandonment issues. "On the Go" is a delirious road movie full of music, where a mysterious mermaid (Chacha Huang) with a magic crown will set the course of the journey.
Praising the bold and unconventional approaches to narrative used in the feature length film and it's "intersectional look at the concept of identity and desire" while avoiding classifications of genre of label, International Cinephile Society gave the film ★★★★½ / ★★★★★. Also holding the "both hilarious and militant" film in high regard, Cineeuropa felt empowered by the queer, feminist road movie "which urges us to tackle life head-on without fear of the future". Spanish speaking Ostro Cines said "Un film estimulante y abierto al descubrimiento. Un descubrimiento que puede llegar, incluso, con la forma de una canción frente a la inmensidad del océano." ["A stimulating film open to discovery. A discovery that can even come in the form of a song in front of the immensity of the ocean".] Since the international premier at Locarno, the On the Go producers Jur and Jur have begun distribution in DACH countries and Taiwan.

Julia De Castro, Omar Ayuso and Maria Gisèle Royo by Locarno Film Festival
"While the story being told is fascinating on its own terms, it is the execution that makes On the Go memorable."
– International Cinephile Society

Still from On the Go, 2023
Directed by Maria Gisèle Royo and Julia De Castro



On the Go poster at Locarno

The team on stage during a Q&A

Maria Gisèle Royo, Omar Ayuso and Julia De Castro by Locarno Film Festival
Andrea Hoyos Valderrama, who just graduated Creative Production (Film) MA, screened her film "Autoerótica" as part of the Open Doors Screenings selection and followed it with a live Q&A. The film is about Bruna, a teenager exploring her sexuality. Bruna starts a relationship through a dating website that challenges her youthful spirit and confronts the freedom of her body. A huge congratulations to Andrea, a member of the Locarno Open Doors Directors Club, who has been making waves with her productions around the world – as discussed in this recent Variety article.

Stills from Autoerótica, 2021
Directed by Andrea Hoyos Valderrama


Andrea on stage during a Q&A session
With a rich history, Locarno festival has presented features and short films by many international directors including Stanley Kubrick, Jim Jarmusch, Ang Lee, Claire Denis and now we're proudly adding Leandro Goddinho, María Gisèle Royo and Andrea Hoyos Valderrama to this list. We're excited to see what comes next.

Beaming smiles from Leandro, Maria and Andrea at Locarno