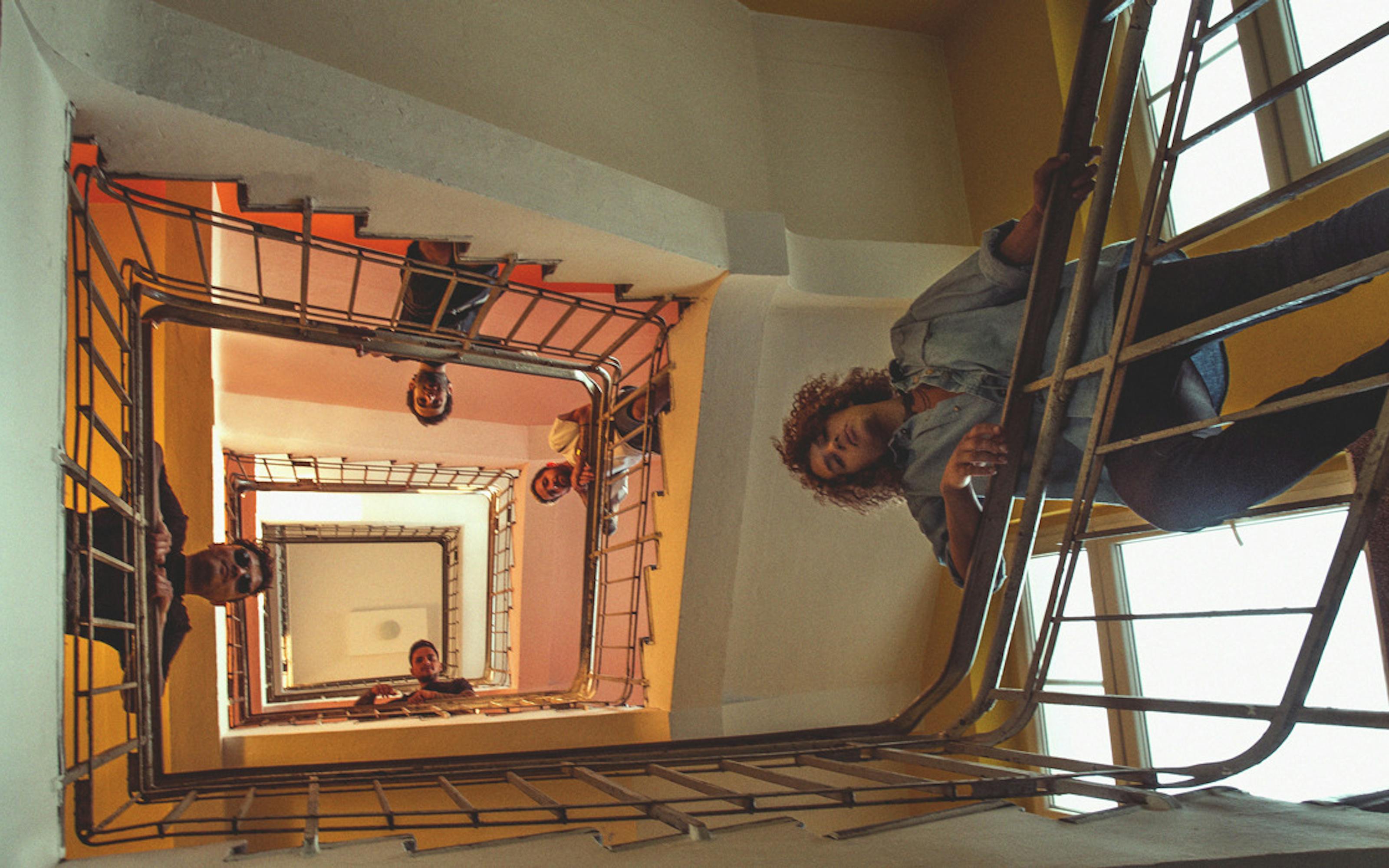 Musician and producer Barak Shem-Tov on his band Disgusting Beauty's new EP
Posted on 2019-01-13T23:00:00+0000 in Student work
We chat to Creative Audio Production & Sound Engineering student Barak Shem-Tov about his experience as Disgusting Beauty's producer, mixer, guitarist and synth player.
Fast nights in chaotic streets. Graffiti, cigarette butts and neon late shops. Warm breath in frozen air and the carbon steam of the underground. Poetic vocals, frenetic drums, ethereal synths and distorted guitar sounds. Psych-punk rockers Disgusting Beauty couldn't be more fitting to the paradoxical allure of this city.
In December, the band released their second EP, Vol. 2. Recorded at the Funkhaus and in Phil Manzanera's legendary Gallery Studios in London, the conceptual six-track journey explores contemporary life in Berlin. The sound is an addictive cocktail of '60s rock and roll excess, '70s and '80s post-punk darkness and upbeat indie.
The EP also marks the growth of the original duo of Silver Cendrey and Francisco Parisi to a five-piece group. Creative Audio Production & Sound Engineering Bachelor student Barak Shem-Tov joined as the band's producer, mixer, guitarist and synth player.
We caught up with Barak to learn more about his creative journey.

Describe your sound in five words.
Cold blooded psychedelic punk rock
What were the inspirations behind the EP?
Vol. 2 is very influenced by Berlin. Every song is a part of a puzzle of experiences we lived here, which we put into words and sounds. The first track, 'Night of the City' is inspired by some dangerous car rides here, while musically being influenced by jazz, shoegaze and tape delays. Other songs like 'Computer Sound' and the instrumental interlude 'Der Fahrgast' are inspired by the contradictions we saw when working, and partying, in a Berlin club during the weekends – the drugs, the dance rituals, the sex, the celebration of individualism, and the adoration of the 'computer sound'.
Tell us about your creative journey.
As the first record I produced entirely by myself, it was a very long journey. From the demo stages – the exhaustion of recording five songs in a weekend (10am to 10pm in the studio each day) – and the never-ending mixing stage. The peak was going to London to Phil Manzanera of Roxy Music's private studio to record and mix parts of the EP. We used some beautiful gear such as Telefunken microphones, Fairchild compressors and the RE-501 Chorus Echo tape machine.
I have also experienced the difficulties of releasing a record independently. Though I was surprised how challenging and frustrating it is at times, it was incredibly rewarding to fill up Monarch in Kreuzberg to celebrate our release show. We released the EP on beautiful cassettes. There's no better feeling than seeing people enjoy your music live and then line up to buy physical copies of it.
"Sometimes you do what you gotta do, but at the end of the day, in order to create you need to live and love your present"
You've got one chance to impress your idol. Which track would you play them from the EP and why?
My idol is the late Lou Reed. I guess I'd play him track number five, 'Adrenaline'. I love all the songs like they are my children, but Adrenaline is probably my favourite child. I get very emotional when I hear it – something about the frontman Silver's lyrics and the melody. I am proud of producing this track. Plus, it's my mom's favourite too. Though maybe Lou wouldn't have liked it, as the title can somehow sound like a straight-edge version of 'Heroin'. Perhaps I should have chosen the track 'All About'.
How has your Catalyst study helped you in the creative process?
The classes in the first year of the degree were essential for this production. I came to school with a very limited knowledge of studio recording techniques and mixing. I used to produce almost exclusively experimental electronic music, techno, and hip hop. At Catalyst I learnt how to record an entire band.
And also, funny story, I actually originally met Disgusting Beauty for a school project. I was looking for a band to record for one of the assignments, and somehow I got to meet the guys and offered to record them. Soon enough we fell in love with one another and they asked me to join the band as a guitar and synth player, and to produce the record.
What advice would you give somebody who'd love to do what you're doing right now?
I'd advise to stop doing whatever you're not passionate about. I had to quit a well-paying job in an airline because it drained out all my passion and creativity. Only then I was fully capable of creating with love and peace of mind. Sometimes you do what you gotta do, but at the end of the day, in order to create you need to live and love your present.
Click here to download or stream Vol. 2, or buy the cassette on Bandcamp. Follow Disgusting Beauty on Facebook, Instagram, YouTube and their website.