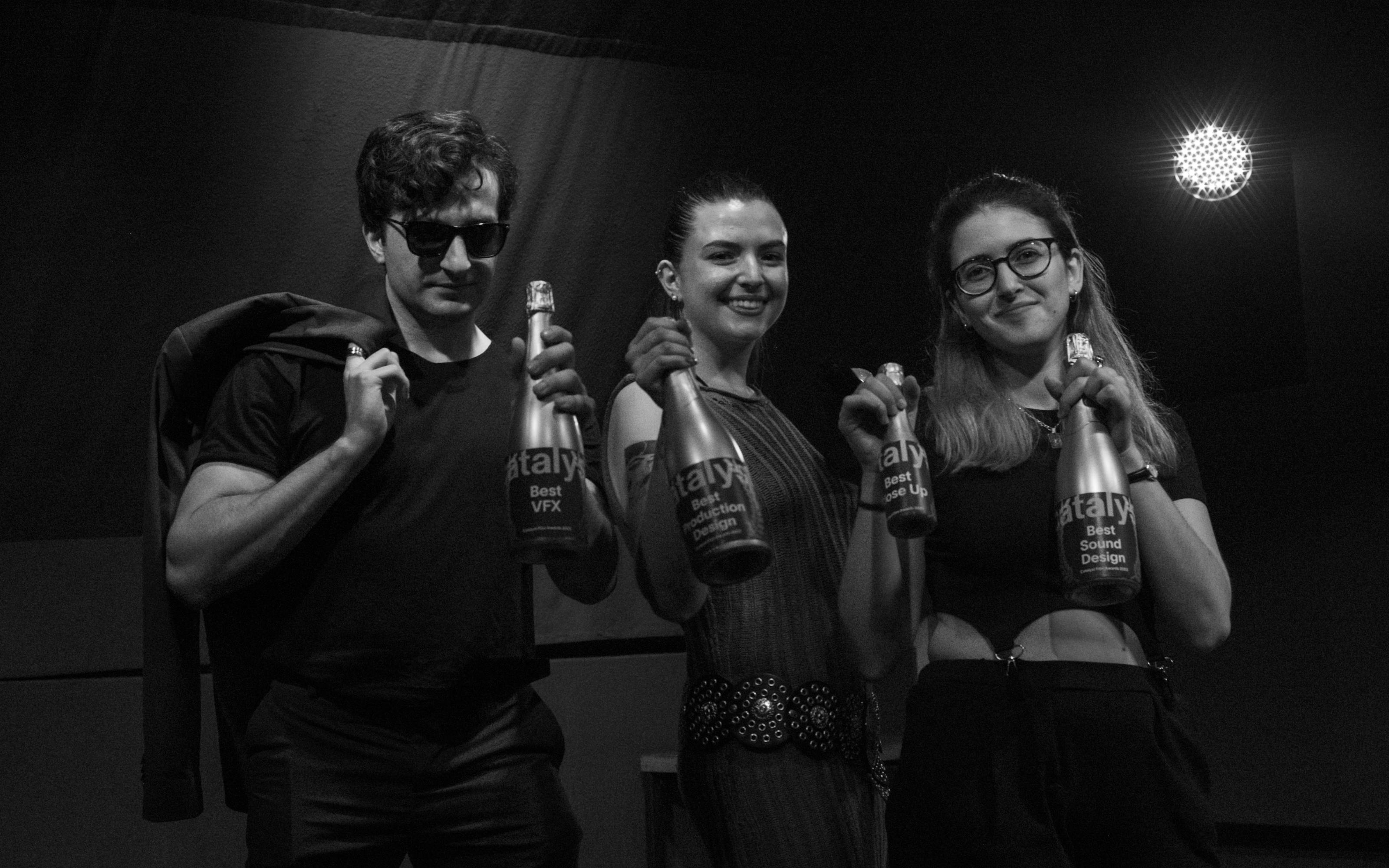 "A film that stays in you": Catalyst Film Awards 2023 and our guest jury's Best Film
Posted by Gregory Cowling on 2023-07-19T22:00:00+0000 in Student work
Last month, the Catalyst community gathered to celebrate the best projects, personal journeys and achievements of 2022/23 within the Film and Acting schools. With over 14 awards up for grabs, and student performances throughout the evening, recognition of our student's hard work and flair was centre-stage. We brought together a jury of acclaimed professional filmmakers and film scholars including Lillah Halla, Gustavo Vinagre, Harvey Rabbit and Pedro Tinen, who applied their deep industry knowledge and fresh eyes on the projects to give nominees the holistic film awards experience.
Best Film and critical acclaim from the jury
The leading award of the night, receiving the jury's undivided attention, was Best Film. With five nominations, the award came with a €1,000 Distribution Prize. The fund is to be used in parallel with a mentored distribution plan. The aim of this award is to help the winner cross the sometimes challenging and usually expensive process of having their film screened at upcoming film festivals.
"An authentic and visceral portrayal of mental health" - Pedro Tinen
The resounding winner, with four jury nominations, was Miranda Siegel's "Ignore your true feelings at your own peril..." – an honest, autobiographical look into a bipolar episode.

Lillah Halla, a guest tutor at Catalyst who recently premiered her debut feature "Levante" at Cannes Film Festival and received the FIPRESCI Film Critics Award, described Miranda's film as "a film that stays in you and reveals the potential and voice of a future filmmaker… Films require courage from us: the courage to make ourselves vulnerable; courage to aim our cinematic-weapon at what is intimate, at the 'unsaid'; courage to not only emulate a voice, but to truly and instinctively search for our own, at the risk of failure. This film deals with complex 1000-piece puzzles. But [mainly it deals with] the puzzle of mental health, in an honest and brutal way– until we complete the pieces – and overcome them." 






Winner of the 2022 Berlinale's Teddy Award, Gustavo Vinagre applauded the film's "hypnotic power to make me doubt all the time if I'm watching a fiction or a documentary" and its "inventive ways of talking about a mental health issue with pain but also with a lot of humour". He praised "the vulnerability that the character allows us to see and also her strength" as well as Miranda's capacity for "telling so much with such concise narrative tools". 
Harvey Rabbit, whose most recent feature film was selected for 2023's Rotterdam Film Festival and is making waves at film festivals around the globe, also praised the simplicity and rawness of Miranda's approach. Harvey, who last year led a workshop at Catalyst on making low-budget feature films, said: "With its simple structure and lack of any fancy film magic, this short documentary is brutal in its honesty, as it follows a young woman through a bipolar episode... In its brave disclosure, [the film] is an autobiographical tale of how important it is to take the time to heal."
Similarly, distribution and film festival strategy expert Pedro Tinen applauded Miranda's "authentic and visceral portrayal of mental health" for its "raw approach to the self through documentary filmmaking… the film opens the viewer to an unapologetic experience of physical and emotional intensity, by following the protagonist's relationship with their own feelings".

Lillah Halla

Gustavo Vinagre

Harvey Rabbit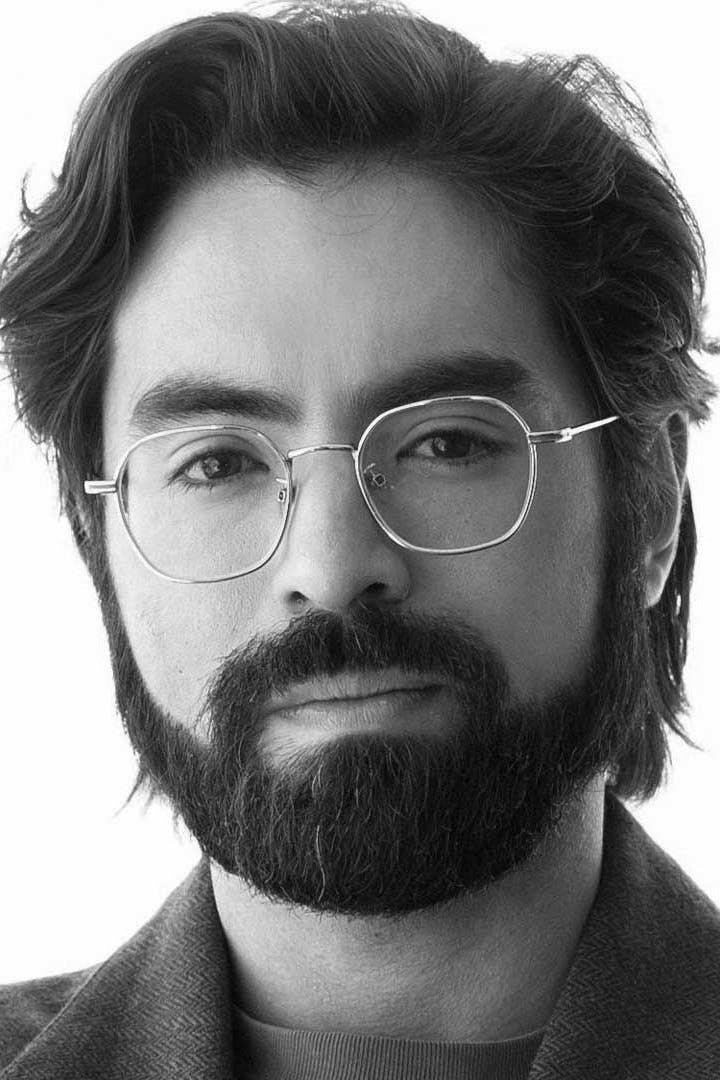 Pedro Tinen
The film that swept the awards
Best Director was won by second-year Film Production student Lior Klein, whose film "The Opposite of Helpless" was awarded a total of six awards. The film also depicts a mental health episode, exploring the topics of depression, family, adulthood and trust.
A big thank you to Matthias Schott, who sponsored the Best Performance prize with a €350 voucher to use in his acting studio. Screen Acting second-years Elinor Linusson and Rachel Leong won Best Performance and Best Supporting Performance for their performances in Lior's film.
"I'm super proud of my incredible cast and crew, who brought their enormous talent to this project, on which we all worked hard and lovingly together." – Lior Klein
The short film, set during Jewish holiday Hanukkah, was also awarded Best Production Design (Lior Klein and Sara Cabezas Molina), Best Sound Design (Lior Klein and Dilinna Ike) and Best Editing (Dilinna Ike). 
Huge thanks to Dilinna Ike for making this brilliant video of the event, which perfectly sums up the joy and community spirit felt that evening.
A special thank you to Dino.Berlin who sponsored the Best Director, Best Production Design and Best Cinematography awards. Best Cinematography was awarded to Leo Bonmati for his role as DOP in the film "Impermanence of Things".
More awards for developing craft
Film Production student Sophie Giuliani took home the first-years' Best Film award for her film "Phoebe" and first-year Film Production student Ian Verni won Best Original Music for his short film "Useless People Living and Dying". Congratulations to Ian, who was in competition with students from the music courses for this award and brought a multi-disciplinary vision to an (almost) entirely self-made film, also earning him the Kid's Choice Award (chosen by student vote). Miranda, winner of Best Film also won Best Story for her film "Forgive me, Natalija" Third-year Film Production student Alexandros Liossatos won Best VFX for his film "Parallel". 






Special mention goes to the faculty-selected Golden Gorilla Award and Spirit Award, won by second-year Screen Acting student Melika Rezapour and third-year VFX student Ethan Ho respectively.
Ethan restlessly collaborated across disciplines and schools throughout his three years studying with us, personifying the Catalyst spirit of collaboration and community.
The Golden Gorilla Award for the boldest and most adventurous filmmaker was awarded to Melika, whose independent film "One Way Ticket" has been selected for 26 international film festivals and has won awards around the world, including Best Acting Ensemble and Best Producer at the Berlin Short Film Festival and Best Short Film at Morocco's Souss International Short Film Festival. Melika wrote, directed and starred in the film, which is inspired by "honour killings" in Iran. With strict media laws in Iran, Melika had to write a fake script in order to obtain permission to film, risking the possibility of entering her home country again. It was this bravery and determination that earned her this award, and we're delighted to see the film earning the international recognition it deserves.
"In Iran we are not allowed to film wherever and whenever we want...  As this is a topic that our government doesn't want the world to hear about, I had to write a fake script… but I filmed what I wanted to film." – Melika Rezapour
A stage brimming with talent
Now in its fifth year, the Catalyst Film Awards is also an opportunity for our community to flex their performance muscles and talents in front of a larger audience. Enigmatic Screen Acting students Rhys Williams and Kristers Ozols hosted the evening and Rhys vogued and spun her way through a dance performance. Many in the audience were wowed (and a bit jealous!) by the ease with which our Screen Acting students could pick up an instrument or sing. Check out this video of Screen Acting third-year Merlina Scheffler and Creative Audio Prod. alumnus Aníbal Caño performing "Tal Cual" for a glimpse into the performances we enjoyed.
Thank you to Kaito Sashihara who captured all the photos of the night.