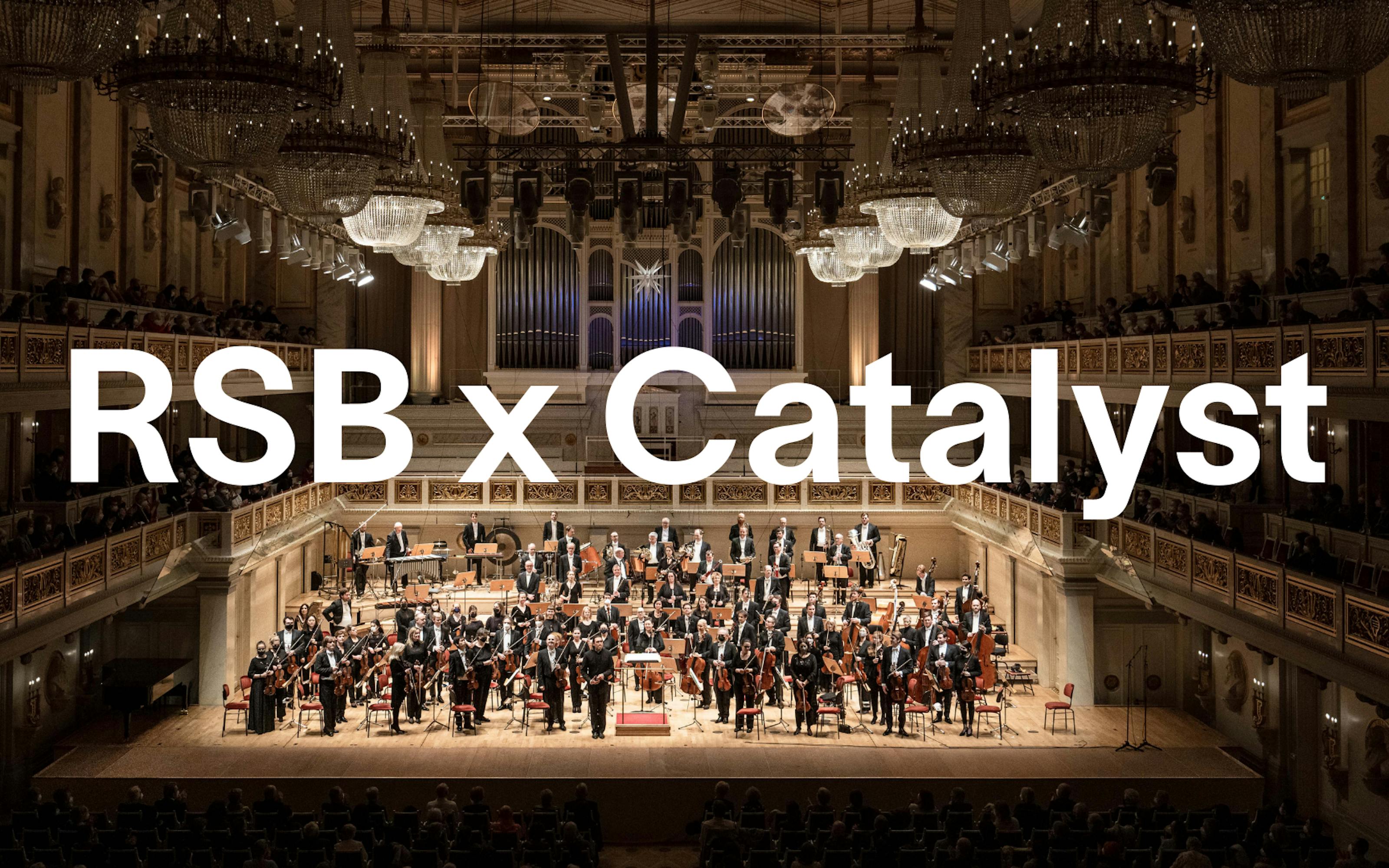 Fusing the contemporary and classical with RSB X Catalyst
Posted on 2022-05-10T13:00:00+0000
We're pleased to announce our official partnership with Berlin's iconic Radio Symphony Orchestra (aka Rundfunk-Sinfonieorchester Berlin). The groundbreaking partnership will seek to develop unprecedented artworks, interdisciplinary collaborations and new pedagogical frameworks for classical music production and performance exploration. 

At Catalyst we have fostered a reputation as rebellious outsiders, kicking against the somewhat ossified higher education system. Through progressive learning methods based on discovery and experimentation, we empower our students with critical thinking skills and the motivation to stretch boundaries and push the creative industries forward.
The RSB x Catalyst project is an unprecedented opportunity to continue pushing our creative boundaries with the support of one of Berlin's most historically prominent institutes, the Rundfunk-Sinfonieorchester Berlin. During the GDR era the orchestra also operated from the Funkhaus before moving to the equally legendary venue in East Berlin, the Haus des Rundfunks, which is the world's oldest self-contained broadcasting centre. Thus, the legacies of both institutions meet in this innovative creative partnership harmonising the old with the new.
"Classical music has much to offer and also much to learn," comments Clara Marrero, RSB General Manager. "The opportunity to work in partnership with an educational institution that is a leader in teaching a range of contemporary creative practices will open up and enrich the work we each do and allow us to forge new and unexpected approaches to the way we create and perform."
The range of participants is wide-ranging, spanning from Catalyst students, alumni and faculty, to orchestral musicians, composers, and conductors. Focusing on the role of human/technological interaction in spurring innovation between traditionally established and contemporary arts institutions, the goal of the partnership is to develop new artworks, interdisciplinary collaborations, and music pedagogical frameworks.
"RSB are an open minded and progressive organisation who are reimagining how a 21st century orchestra creates, performs and connects to its audience," said David Louis Puttick, Catalyst Founder. "The creative learning community at Catalyst is home to the next generation of international electronic music producers and performers. Our partnership will create a crucible that fuses the strengths of each approach into an exciting new direction for classical music".
In this two-pronged creative interplay, the Catalyst community will join the historic orchestra to curate interdisciplinary music events as part of the 'Mensch, Musik!' series, while classical and electronic music frameworks will unite in the unprecedented HyperSynth project.
Mensch, Musik!
"Mensch, Musik!" is the RSB's new series of concerts in the Großer Sendesaal of the Haus des Rundfunks, which uses music and interdisciplinary art elements to address issues such as the climate crisis, borders, visions of the future or migration, and is intended to encourage greater reflection and shared responsibility along the way.
Different artists from Catalyst will collaborate with RSB in a selection of concerts throughout the 2022/23 season.

HyperSynth project
Approaching the orchestral ensemble as a form of Hyper-Instrument (synthesiser), the HyperSynth project is a series of workshops marrying the sonic innovation of electronic music with the established acoustic timbres of a classical orchestra, producing a horizon-opening shared language for composition and performance.  
The goal of these workshops is to nurture the unexplored spaces of music creation which overlap both the orchestral and electronic musical spheres. To foster this collaborative relationship, faculty and students from the Catalyst Berlin's Electronic Music Production and Performance Degree will engage in a series of exploratory workshops focusing on how sound is creatively produced, and interacted with, in both electronic and acoustic domains.

In the fertile space between historical and progressive, the experimental partnership aims, year on year, to encourage a fruitful critical discourse between Catalyst's students, alumni and faculty, and RSB's orchestral musicians, composers and conductors, catalysing growth on all fronts. 
By uniting the expansive sonic innovation of electronic music with the established acoustic timbres of a classical orchestra, this groundbreaking partnership will undoubtedly kick-off a new chapter for Catalyst and provide a new realm of opportunities to grow our community's greatness.
We look forward to sharing this exciting journey with you all. Stay tuned for details on the programme and tickets.