This 4-week short course is the perfect starting place for budding sound engineers eager to learn the practical fundamentals of recording. Discover the art of recording bands, soloists or electronic artists in a professional vintage recording studio environment. As a progressive education institute one of our core beliefs is that you need to spend lots of time with your own hands firmly on the gear. We call it learning by doing....and doing...and doing again.
You may be a total beginner wanting to start from scratch or an aspiring sound engineer, early in your journey of understanding your craft and wanting to build knowledge and confidence.
Discover, define and refine your understanding of the core tools, skills and techniques needed to kick start your life as a sound engineer.
From understanding the basic principles of sound engineering to getting to grips with the pre-production and planning of a recording session. From working with microphones and mixing desks to applying core audio production techniques and software operations. You will come out of the four weeks with a broad foundational understanding of studio recording – and, most importantly, the fuel to forward your creative journey.
Your course will cover the following subject areas:-
Pre-production planning
Microphone types, placement and experimentation
Acoustic and psychoacoustic principles
Instrument types and recording techniques
Analog mixing desks, signal flow, routing, patching and monitoring
Software operations – tracking, conforming, editing & exporting in Pro Tools 12
Session management and communication skills
Reamping, sound manipulation and experimentation with sound sources
Dynamic (compression), spectral (EQ) and spatial (panning) processing
Mixing and mastering principles
Week 01 -Preparation
Project: understand the basic principles of sound engineering and running a successful session
Introduction to Sound Engineering ,Studios,Audio Electronics & Cable management
Introduction to Pro tools
Introduction to  SignalFlow, Metering & Signal Quality.
Basic Acoustic and psychoacoustic principles                                                            
Week 02 - Recording & DAW Editing
Project: Learn the basics of pre-production planning, Session management and communication skills in a recording session.
basic pre-production planning & demo recording.
Introduction to session planning in Pro tools
Basic drum recording techniques 
DAW drum Editing techniques 
Week 03 - Recording & daw Editing
Project: Hands-on recording instruments in a professional studio environment  & DAW Editing  in pro tools
Basic Instrument  (guitar, bass & piano)
conforming, editing & exporting in Pro Tools
Vocal recording
Daw Vocal editing processes 
Week 04 - Mixing &  Mastering
Project: Learn to use basic contemporary tonal, dynamic, and panoramic mixing & mastering techniques in your workflow
Basic Mixing skills
Balance, Position & EQ Dynamics, Space & Depth in a DAW
Basic Mastering skills
Listening & Feedback session
Upon successful completion of this course students will be able to:
understand the basic principles of sound engineering
apply basic pre-production planning, session management and communication skills in a recording session
understand basic microphone types and placement
understand basic acoustic and psychoacoustic principles
understand the basics of analog mixing desks, signal flow, routing, patching and monitoring
understand basic software operations – tracking, conforming, editing & exporting in Pro Tools 12
understand and apply principles of sound manipulation and experimentation with sound sources
understand the basic principles of dynamic (compression), spectral (EQ) and spatial (panning) processing
apply basic mixing and mastering techniques.
This course is designed for two audiences.
The first audience are those looking for a productive way to spend 4 weeks developing their sound engineering skills to support their own projects and meet like minded people to work with. For this audience the likely progression routes are:-
Returning to their own project with a new set of skills
Returning to Catalyst to take one of our other short courses.
The second audience are those students wishing to progress onto one of our longer courses whom require some practical experience to help prepare them for the longer course. The most likely courses they would progress onto are:-
HE Certificate Creative Audio Production (1 Year)
BA Hons Bachelor Degree Creative Audio Production (3 Year)
More courses
Our courses are taught by a team of permanent tutors & visiting international music industry professionals with a genuine passion for passing on their specialist knowledge to others.

Ciarán O'Shea
Record producer, composer, mixer and owner of WhiteWell Studios. Ciarán O'Shea is a self-described musical Swiss Army Knife. He's worked with some of the biggest industry hitters in such prestigious studios as Sound City L.A., Sunset Sound L.A., & Park Gates Studios, England. He has also diversified into TV, movies and video game soundtracks over the course of his lengthy career. Stellar technique is one major success factor, but it's his shoot-for-the-moon attitude which you'll be well placed to fuel up on. 
Ciaran has worked with industry big hitters such as Sylvia Massy (Tool, Prince), Colin Richardson (Slipknot, Rodrigo y Gabriela) and Sean Beavan (N.I.N., No Doubt ). As a music producer he has worked in a variety of styles from electronica to pop to rock with artists such as Bush, Chester Bennington (Linkin Park), The Frank and Walters, Sacha Puttnam, and Chris Coco.

Valerio Massucci
With over 10 years' experience in the industry, as a recording, mixing and mastering engineer, Valerio Massucci has made a name for himself working throughout Europe and the UK. His numerous productions range from classical and baroque orchestras, to electronic driven post-rock. His credits include Benjamin Power (Fuck Buttons/Blanck Mass), Jorja Smith and the Orchestra Magnifica Parte De Sotto.
Whether he's in the studio or the underground, Valerio is passionate about empowering artists with the finest quality audio. Recently, that culminated in the co-creation of his audio haven, professional audio service and performance platform Hypertone Studio.
Catalyst is a thriving creative learning community of tutors and students from more than 55 countries. It's a golden opportunity to meet up and collaborate with like minded peers from around the world. A key part of our approach to learning involves working with others whether as peers, mentors, collaborators, audience or fellow travellers. Passion is always better shared!
In the end it doesn't matter how great we think our courses are. What matters is what our students actually do during their time with us. Have a listen, leave some comments and decide for yourselves.
The most important prerequisite for attending any course at Catalyst is that you must be passionate about building and developing your skills as a sound engineer.
Our short courses are designed to be accessible to anyone so we do not require any level of academic certification to apply. To qualify you should usually be aged 18 or over. If you're coming from outside the EU a holiday/travel visa will usually suffice.
We accept applications up to 14 days before the course start date but places are assigned on a first come, first served basis so we recommend you make an application as soon as possible.
For more information please contact a member of the team. We love to chat! Please reach out to us at admissions@catalyst-berlin.com or call us at +49 30 2900 9052.
Info hub
Date: 19 June to 14 July, 2023
Course length: 4 weeks
Application deadlines: International / EU students - apply by 31 March, 2023* to secure your spot.
* Our final deadline is 15 May 2023, however course spots are granted on a first come, first served basis. If you're course of choice is already full you will be added to a waiting list.
Enrolment fee*: €495
Course fee**: €1,500
Total: €1,995
If you decide to enrol in both a short and long course with us, you will receive a discount of 500€ on the total tuition.
* Note- Enrolment fee is non-refundable.
** Tuition fee deadline: June 8th
More detail
Get a feel for our school from the comfort of your home with our Virtual Open Days and skill-focussed Taster Workshops.
Hosted by our team and students, these online events will give you a sense of what it's like to come and study with us in Berlin.
We look forward to meeting you online soon!
Learn more
Designed for those wishing to join our main programmes, but lacking the formal education requirements to apply through standard entry.
These free workshops run at the same time as your short course programme and cover writing skills, reading, structuring arguments, debate and understanding context.
They utilise task and project based learning methodology to ensure that you're prepared and ready for our longer HE certificate or degree level programmes.
Learn more
Mixing and Mastering Electronic Music - Short Course
Our 4 week mixing and mastering course is designed for audio engineers and producers who are seeking to advance their creative and technical skills.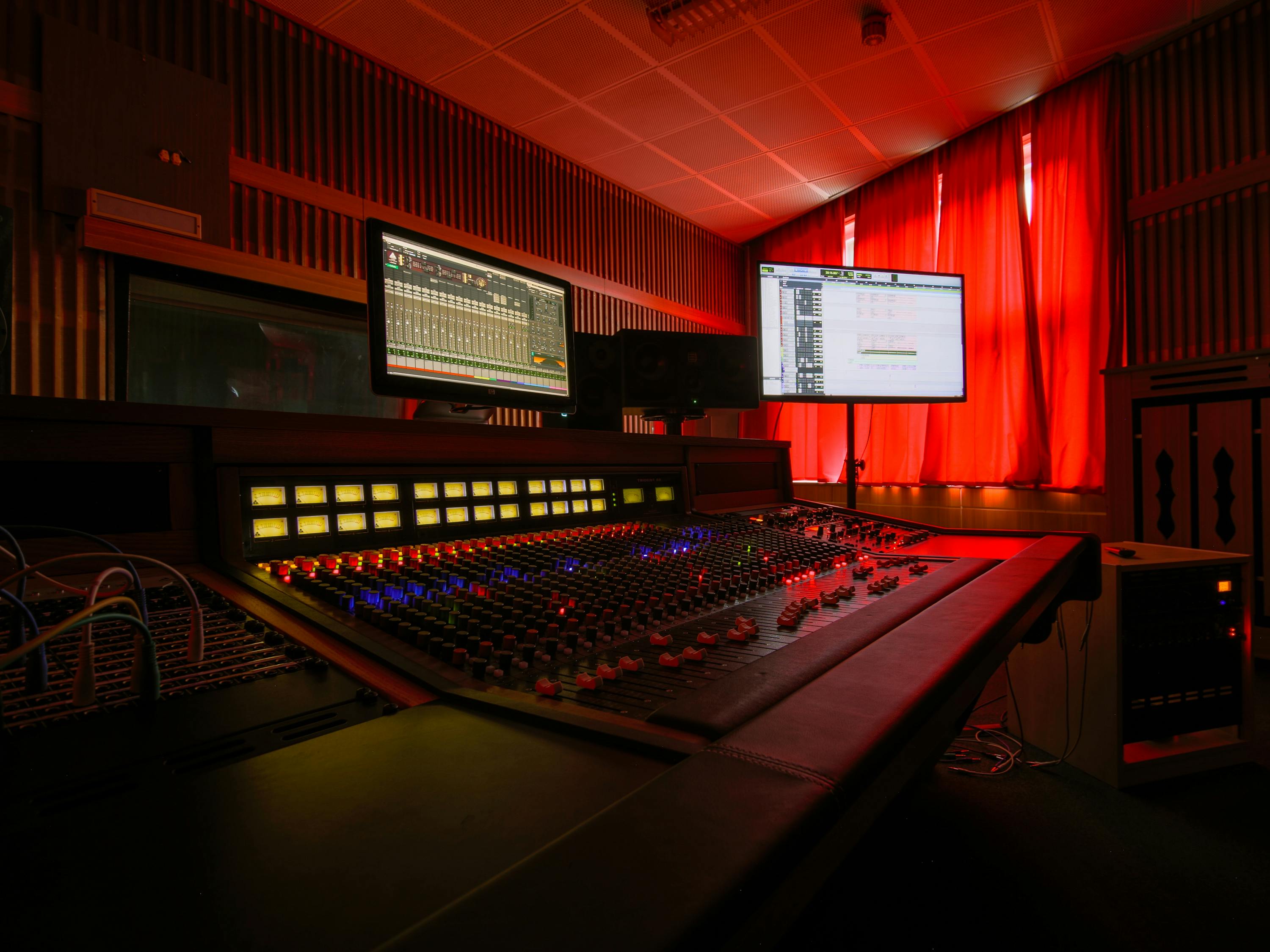 Creative Audio Production HE Cert
Using challenging real-life scenarios develop industry standard tools, technical know how and the essential techniques required to record, mix, produce and master music whilst building a sound engineer or music producer portfolio.
Creative Audio Production BA Hons
Develop industry standard tools, technical and creative techniques, industry knowledge, critical analysis and the human attributes required to pursue a rewarding and successful career in sound engineering, music production, and related areas